Campaign tables (sometimes called "Directoire" after Revolutionary France's love affair with Roman architecture) are so very classic. I have already blogged about them
here
. This one used to be for sale at an online antique store:
Rogers and McDaniel, Brass and Black Granite Directoire Table $698
I found this look-alike at Target.com for $50 to use as a nightstand for our master bedroom: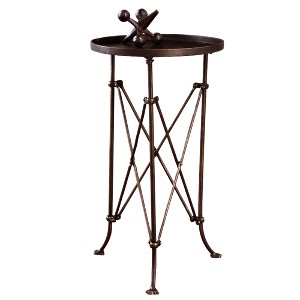 Target.com, Metal Round Table, sold online only
I plan to spray paint it a "polished brass" (better than the spray paint color "gold") and then maybe add some black marble to the top. If I can find a big enough tile on clearance at a tile store, than I could have it rounded at a local fabrication shop.