So, at my local thrift store last week, I was hunting for art that I could put in my master bathroom. I gave up at the store quickly when there wasn't much art that day to choose from and my three boys were with me creating trouble. When I took them to the book section, I was happy to find this book for $1!!
$2.99 OBO at Bonanza.com
Most of the right side pages have beautiful color illustrations (26 total!!) with a caption that has the name of the bird and it's size. I can't wait to frame a whole wall of them. They could look sort of like this one on the bookshelf in our master bedroom in our old house:
And the great thing about framed nature illustrations, is that they are pretty timeless. You see them all the time at antique stores:
Clausen House Thrift Shop via oaktownart.com
Framing could be done with black and gold to mimic an antique:
halkramer.com, "Exotic Antique Reproduction Naturalist Framed Art . . ."
The best part is that there are so many types of decorating that bird art works with: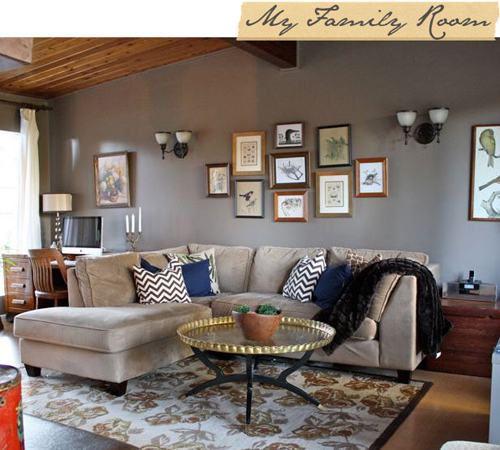 birchandbird.com, "Decorating with Yellow"
pamelaspunch.com, "Home is Where the Heart Is"
shannonberrey.com, "How to Create Sharpie Wallpaper"
cozamia.com, "Magpie Jay Gold"
portlanddomesticity.blogspot.com; "A Vintage Bedroom"
bhg.com, "Decorating White Spaces" by Centsational Style
Now that I've been able to use my existing art for the master bathroom, I can dream of filling up some other wall in the house with this art . . .