Lots of WHITE . . .
.mapleleavessycamoretrees.com, "Laundry Rooms"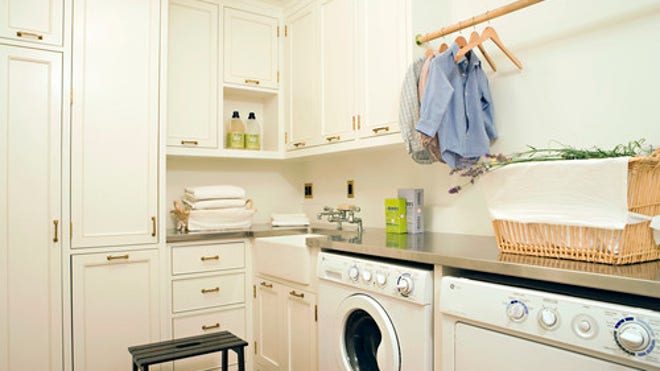 foxnews.com, "Contractor Tips: Wise advice for laundry room design"
designsponge.com, "Canadian Sneak Peek - Home of Sarah Hartill"
Some PATTERNS on the walls . . .
shannonberrey.com, "How to Create Sharpie Wallpaper"
johnlewis.com, "William Morris Fruit"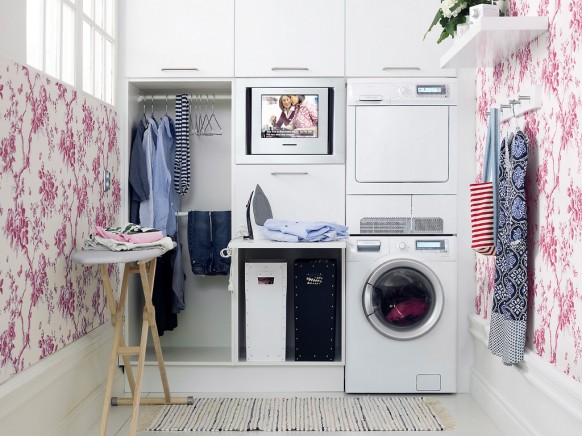 home-designing.com, "Laundry Room Design Ideas and Pictures"
Is it possible to get BETTER LIGHTING than these basement rooms? . . .
indecentorder.blogspot.com, "House Tour :: Sewing Room"
vintagepixiestudio.blogspot.com, "Dream Studio! revealed . . . ."
jillruth.com, "My Sewing Room"
librariankaren.blogspot.com, "New Craft Room"
This is an amazing dining room with no windows--but the photo is copyrighted:
http://www.flickr.com/photos/7937835@N03/5705369400/
I want to leave the pipes exposed. A soffit to hide the plumbing that goes to the bathrooms above would make the room feel even smaller. Something like this:
http://www.saffroniabaldwin.com/category/loft-style/