I live in a home that is like a mix from the two homes in the "Parent Trap" movie: a modern 1960s ranch that has horizontal lines, huge guillotine cut stone fireplace, but with colonial window boxes, stair railing and stain glass front door. Decorating it has become sort-of an identity crisis!
http://hookedonhouses.net/2010/01/31/the-original-parent-trap-two-sisters-two-houses/
The challenge I am having right now is how to blend what I want to do to the living room, which
mostly
has nothing to do curb appeal, and blending what we use for window treatments on 3 HUGE picture windows that have a LOT to do with our curb appeal--especially now that we've ripped out the bushes and trees.
Progress
Have you ever thought about what interior window treatments looks like from the outside? Sometimes, the curtains/shutters/shades can really TAKE AWAY from the exterior of a home.
But other times, the curtains/shutters/shades can really ADD to the exterior of a home.
With a ranch home, you really want to work with the modern feel that your home has. EVERY ranch home has a Prairie style (think Frank Lloyd Wright) influence to it. Frank Lloyd Wright had a love of nature
and
technology. In fact--I believe he used technology to relate more to nature. You can see this in the ranch homes replicated over and over again throughout the country: low horizontal lines (meant to relate more to the landscape), heavy set chimneys, sheltering overhangs, open floor plans, lots of windows. To have a ranch home from the 1950s or 1960s is to have a little piece of history nodding it's hat to the FLW influence--like this home from "North by Northwest" where the studio had a matte painting exterior and a sound stage built interior to
look
like FLW had designed it (because they couldn't afford his fee to have him actually design it):
The windows in our living room need to look out on nature and also need to have a spare/modern feel to them. The view from Mt Olympus is right out those windows! Whoever chose those windows
knew
that view what important--and I don't want to cover it up. But how to protect our newly-refinished wood floors and how to protect our privacy at night? I hope someday this corner of the living room looks as inviting as this:
http://smallhousebliss.files.wordpress.com/2012/11/carney-logan-burke-fish-creek-guest-house-bedroom-via-smallhousebliss.jpg?w=820&h=615
I've just about talked Jon into roller shades as the solution. They would allow us an unfiltered view of our yard (which someday won't create spontaneous yard work lists in our heads every time we look at it) and Mt Olympus, we can pull them down at night for privacy, AND they wouldn't be too expensive for 3 windows that are so large.
One of these days I will be able to pull down my old lady sheers (that I bought as a quick way to protect our wood floors from sun damage) and numerous curtain panels, and decorate the room as it was meant to be: with a FLW influence.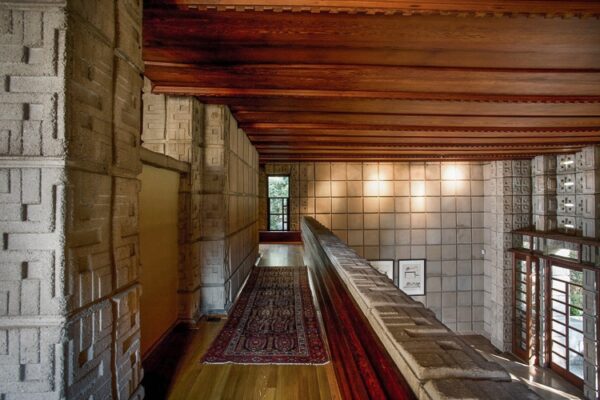 FLW 1923 Millard House in Pasadena