In order to understand early 1900s decorating, we have to individually look at the architecture of the time.
To set the stage, the country was pulling away from the prolific Victorian styles. Named after Britain's Queen Victoria who was queen from 1837 until her death in 1901, the style had time to become ornate, eclectic, and colorful:
traveleredge.com: Milton Carson Home, Eureka
What we consider to be "modern architecture" today was not here in the early 1900s. There were some hints around 1910 of what we call "modern" today. The first is the simplified farmhouse (covered porch, dormer windows, white paint):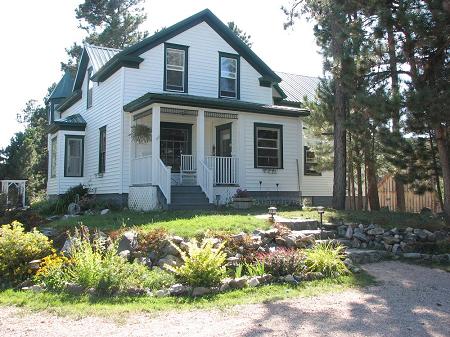 oldhouses.com, "c. 1910 Farmhouse pine grove Rapid City, South Dakota"




antiquehomestyle.com, "Sears Roebuck 1916 'Modern Home No. 264B110'"
The simplified farmhouse is closely related to the Foursquare. Looking at the floor plan, you can see that it was a democratic shift from the Victorian home. Foursquares incorporated the kitchen into the main floor for the servant-less housewife (see wikipedia "American Craftsman"):
lampsplus.com, "Mysteries of Old Houses"
flickr.com, "Yellow and Blue American Foursquare Houses"
antiquestylehome.com, "1916 Sterling 'The Imperial'"
The Craftsman Bungalow is an evolution of the Foursquare. It is more organic and horizontal, thanks to Frank Lloyd Wright, Louis Sullivan, and the Prairie School:
gardengrow.wordpress.com, Harold C Bradley Home built 1908-1909
blog.seattlepi.com, "Seattle Architectural Styles Through the Years..."
antiquestylehome.com, "Sterling Systems 'The MaCheri' 1916"

But revival (traditional) styles of architecture were also very popular. Dutch Revival:
highlandparkfoursquare.blogspot.com, "Sweet 1910 Dutch Colonial Revival for Sale"
antiquestylehome.com, "1924 Argo Summit 'The Dover'"
Tudor Revival:
athomeinportland.com, "Portland Classic Homes" Henry B. Miller home built 1911
antiquestylehome.com, "Sterling Manse and Manseigneur 1916"
antiquehomestyle.com, "English Cottage Style - 1920 to 1940"
antiquehomestyle.com "Pacific Design No. 496"
We'll look next at the interior decoration of these early 1900s homes, and I've got a separate post on mail order homes from this era.