Waiting at Sherwin Williams last month for a color match on our kitchen cupboards, I thought about how many of us will be taking up the paint brush now that the weather is warming up...and most people will be buying a grey paint for their walls. But which one is the best? Think "French".
davispaint.com
The top two questions I get from visitors to our house are about paint: What color is this on the walls?
What color did you paint your kitchen cabinets? (I really enjoy telling people this is the paint color the original owner put on and how much I love it!)
BM Revere Pewter has been talked about by both my hair stylist AND my cousin who just started remodeling a 1950s fixer-upper. This color is so close to Behr Castle Path!
Life on Virginia Street: SW Urbane Moss on left (with paneling) and Behr Castle Path on right (by window)
The Turquoise Home, BM Revere Pewter in living room makeover
There is a set of greys in the Prisma marker world called "French Grey" and that is what everyone is after right now. The idea is that grey is mixed with the warm tones of a little brown to give it more warmth and depth.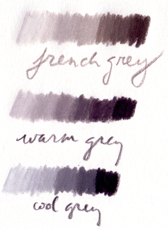 lianaspaperdolls.com
See how this translates into paint?
French Grey, artpaints.com
French grey makes a great wall color for today's trends!