"Indigo," "navy," "teal," "peacock"! So many deep, rich colors in decor to adore! And navy is so so classic!
pandceproboards.com, "Navy or Teal Lower Cabinets?"
I set out to find anyone using these colors in bathrooms--and I am stunned! Looks like the bathroom is a great place to paint a vanity or wall a striking color of "midnight" or "caribbean blue":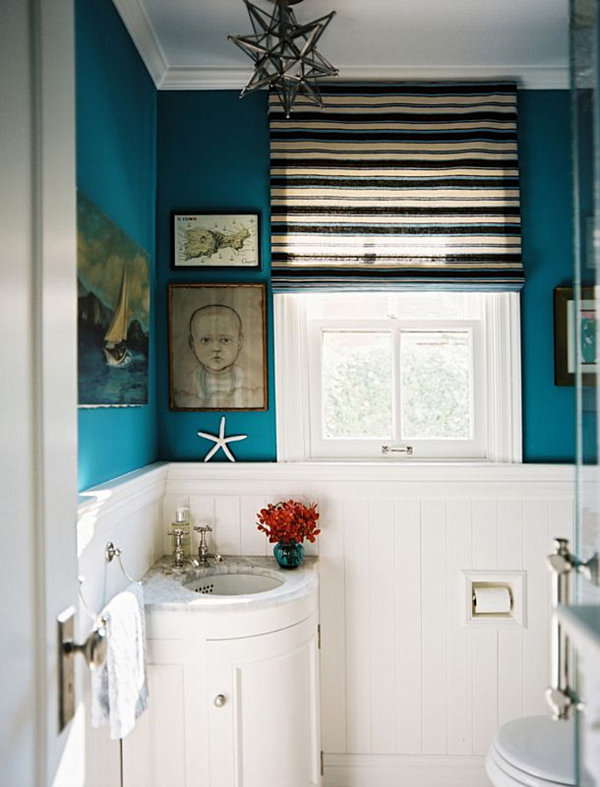 decoist.com, From Navy to Aqua Summer Decor in Shades of Blue
Navy is such a great color to use for a nautical feel:
decorpad.com, "Blue Seaside Boy's Bathroom"
Great colors to combine with navy and teal are coral, yellow, white, and brown:
milkandhoneyhomedecor
beautifulabodes.blogspot.com
What I can't get over, is how small some of these bathrooms are! A dark color like navy makes the bathroom grab attention, and feel cozy--which is hard to do in a waterproof space!
evolutionofstyleblog.blogspot.com
Check out these top colors at Benjamin Moore: hale navy, caribbean teal, van deusen blue, normandy, and hunter green.